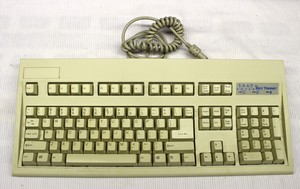 My friend Dave is always on the lookout for an interesting old keyboard for me to try out. Recently, he found two old Keytronics models at a second hand store. I don't have all the information on them, but they are old enough to have the DIN 5 pin connection. They do, however, have the Windows key, so my guess is that they were from the era of keyboards that came out with Windows 95.
Dave purchased two of them with the same form factor and of the same outward appearance. They are altogether bog standard keyboards, with rubber dome switches and standard plungers to actuate the rubber domes. The keys themselves are fairly nice, with a clean legend and nice, conical shape, taller and slightly narrower at the top than is the standard today. Basically the same shape as an IBM M series. The chassis and layout is much the same as the "M", as well. Full keyset, large format with a lot of bezel around the key clusters.
The shape, however, is about as far as the similarities goes. Picking the keyboards up, they weigh less than half what a vintage IBM keyboard does, and have a good bit of chassis flex if you test them out. Being rubber domes, they have a chance to be somewhere between absolute rubbish and passable in terms of typing mechanics. While not absolute rubbish, I wouldn't say that these old Keytronics keyboards have anything special to offer. Other than being in the vintage beige and having the old fashioned look/form factor, there's nothing really special here.
Can you type on them? Sure.
Are they great? No.
Brass Tacks:
This era of keyboard had the "Big Ass Enter" key, and the little backspace. This is a rare design choice right now, but once held a big place in the market. Being DIN connection, you'll need one or even two adapters to get it working on your modern PC. All in all, not really worth it. Not to me, anyway. There are better keyboards being sold for twenty bucks right now, without the need for weird adapters. Not all the old stuff is great. In this case, it was a mediocre product when it came out (most certainly build to minimize cost but appear to be the same as more expensive 'boards.), and it has not gotten any better with age.
Cheers, and Happy Typing!